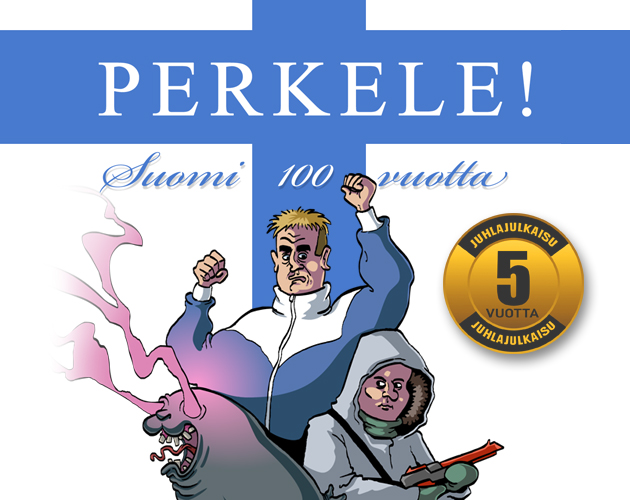 PERKELE! - Suomi 100 vuotta - 5th anniversary edition
PERKELE! - Suomi 100 vuotta - 5th anniversary edition
A collection of three NES games about Finland that celebrated it's 100 year independence back in 2017. Now available as a 5th anniversary edition.
Nakkikioskitappelu (Grillkiosk Fight)
After all the bars and pubs get closed at night, Finnish people gather at grillkiosks to get greasy food and to have fistfights. Travel across the country as Kyösti from Pihtiputaa and challenge local fighting legends. Use your fists and the art of vittuilu to win the golden hot dog.
Two-player local multiplayer included.
Saimaannorpan kosto (Revenge of the Saimaa Ringed Seal)
The error that is known as the human species is destroying the environment. One endangered Saimaa ringed seal named Nestori has had enough. Equipped with laser eyes he intends to clean up lake Saimaa from the human scum and restore the balance of nature.
Talvisota (Winter War)
A game about the war between Finland and Soviet Union during World war II in the years 1939-1940. On his first day in the Finnish army, private Nönnönnöö is sent to the border of Finland to defend the country all by himself. The objective is to kill all the invading enemy soldiers.
Supports Zapper light gun accessory for added realism.
About
This game collection was previously available as a physical NES cartridge released in 2017 and is now available as a 5th anniversary downloadable ROM here on itch.io. Fully playable on PAL and NTSC systems. Best way to enjoy it is to use a flashcart but NES emulators work too.
Please note that the game language is only in Finnish. Manual is also available only in Finnish for the time being.
Updates
This release includes bug fixes that were present in the original physical release. Most notably the music on Talvisota works now when playing on NTSC systems. Several minor glitches are also fixed.
Credits
AasiPelit:
Arto4000: design and code
Nutshell: cover art, graphics, music and SFX
Lurg: level design for Saimaannorpan kosto and game design
Contributors:
dfast: music
Calondra: testing
Erja: testing
Zilverfang: proofreading
Purchase
In order to download this game you must purchase it at or above the minimum price of $5.99 USD. You will get access to the following files:
Viisivuotias PERKELE! - Suomi 100 vuotta.nes
384 kB
Viisivuotias PERKELE! - Suomi 100 vuotta manual FIN.pdf